Authority Magazine Features Jonathan Barnett in New Interview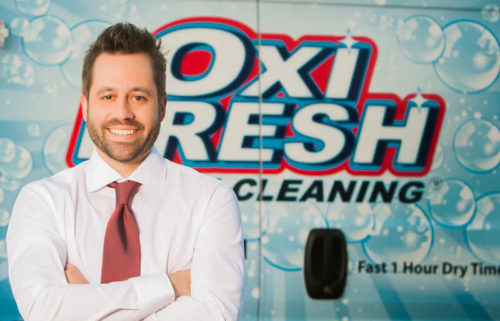 Carpet Cleaning Franchise Leader Shares Thoughts on Business During COVID
Authority Magazine, a publication that specializes in " interesting 'thought leadership interview[s],'" has released an interview with our carpet cleaning franchise company's founder and CEO, Jonathan Barnett.
This interview covered a wide range of subjects. Charlie Katz, the interviewer, asked Mr. Barnett about his entrepreneurial history, his thoughts on having a "'purpose driven business,'" and much more.
The focus of the interview, though, was on both how the current pandemic has affected the company and how the company planned to grow in the future.
Below are some highlights from the interview:
The "Green Light" Principle
Early in the article, Mr. Katz asked Jonathan if there was a principle that has helped guide him throughout the course of his business history.
Jonathan responded that the "Green Light" philosophy has been key to how he has operated the carpet cleaning franchise company. "You've got to act like you have the green light in life. Move ahead and take action. Don't wait for things to be perfect because they never will be."
Mr. Barnett explained that many people live their lives, "waiting for some perfect opportunity, some ideal situation." He likens that to "sitting at a red light, except there really is no red light. That red they're seeing is their own fears, hesitation, or the unfounded belief that there's a perfect scenario that will show up if they just wait."
Instead of living that way, Mr. Barnett later encouraged people to, "Get out there and be bold. Some things won't work out, sure, but it's better than waiting around for nothing."
The Challenges of COVID-19
When it came to COVID-19, Mr. Katz asked Jonathan about the challenges that the pandemic has presented. Mr. Barnett's answer was twofold, detailing the difficulties faced by both the Home Office and the carpet cleaning franchise locations themselves.
For the former, since the company is "a very collaborative crew" that "enjoy[s] working together," they've found isolation has made the process of serving the franchisees more challenging. That said, Oxi Fresh was already somewhat prepared for this. "We already used Slack, so we just added Google Hangouts and just good old-fashioned conference calls to that. Through these tools, we can all stay in touch and stay informed. It's not the same as being together, but we're making it work."
Then Jonathan talked about the carpet cleaning franchisees themselves, addressing their decreased sales and the steps the Home Office has taken to help. These include deferred fees, a new product that meets "the EPA's criteria for use against SARS-CoV-2 (the cause of COVID-19)," updated marketing, and new safety standards.
"Thankfully," Mr. Barnett said later, "Bookings are back up to pre-COVID levels for this time of year. We think our efforts and the efforts of our franchisees have been key to this rebound."
Oxi Fresh and the Future
Near the end of the interview, Mr. Katz asked, "what do you personally plan to do to rebuild and grow your business or organization in the Post-Covid Economy?"
Mr. Barnett explained that Oxi Fresh has already been working on this. Through our marketing efforts throughout the pandemic, we've been, "planting the seeds of our recovery and future growth." Oxi Fresh plans to continue its marketing push as the weeks pass and more customers try to catch up on the spring cleanings they had to put off.
"We're already back to where we were at this time of year in 2019, and I think we're going to continue to grow," said Mr. Barnett after the interview, "I think as a brand, we will come out of this stronger."
To read the original article in Authority Magazine, click here. Interested in booking a carpet cleaning? Click here. You can also learn more about opening your own carpet cleaning franchise with Oxi Fresh here.
Did you see Jonathan's feature in Hometown Business or his interview on Fox News?