Oxi Fresh Carpet Cleaning: One of 2023's Fastest-Growing Franchises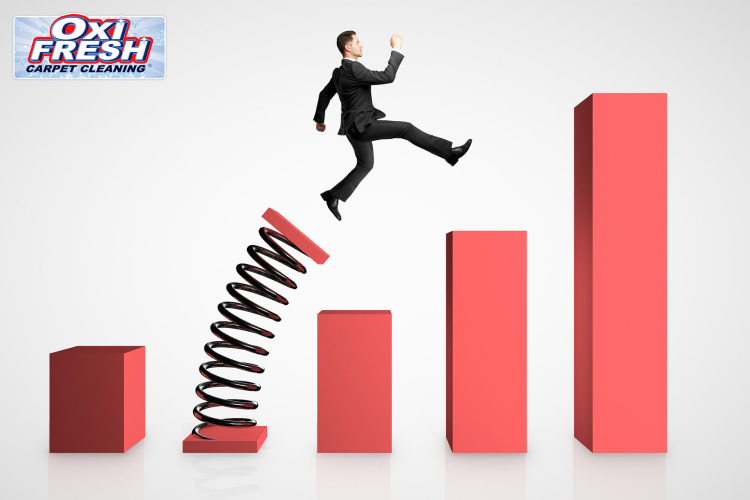 Entrepreneur
Magazine Ranks Oxi Fresh #135 Among Fastest-Growing Franchisors
In Entrepreneur magazine's recently released rankings of the fastest-growing franchise brands in 2023, Oxi Fresh Carpet Cleaning was listed at number 135. These rankings, based on the net unit growth of the franchising brands from July 2021 to July 2022, were printed in the March/April 2023 issue of Entrepreneur magazine and also appear online.
Oxi Fresh's team was thrilled to see their hard work recognized by such a noteworthy business publication. Director of Franchise Development Matt Kline said the following: "As we continue the rapid expansion of our Oxi Fresh franchise concept, it really means a lot to our team to receive this type of recognition from a premier business publication like Entrepreneur magazine. We are excited to say that we are still on track to having 500 locations open and operating by the end of 2023."
Entrepreneur's own leadership team also highlighted the significance of these rankings within the franchising world, with Senior Vice President of Franchising Liane Caruso offering the following comment: "Our 2023 Fastest-Growing Franchises ranking recognizes the franchise brands with the greatest growth but also highlights the extraordinary momentum in the industry over the past year. After all, growth is what franchising is all about."
Oxi Fresh's recent ranking was also covered on a variety of news sites, including AP News, MarketWatch, Seeking Alpha, and many more.
Regular Recognition for Oxi Fresh
Over the years, Oxi Fresh has received an abundance of awards and other forms of recognition from important organizations and major publications. In 2022, for instance, Oxi Fresh was proud to be recognized in two key categories by Entrepreneur, ranking highly as a leading franchising opportunity for veterans and as a leading franchising opportunity available for less than $50,000. 
Oxi Fresh's Vice President, Kris Antolak, said, "We're pleased to see such a prominent publication repeatedly recognize the excellence of our franchise development program. Our growth has its foundation in our ability to provide a great service for customers while making it as easy as possible for our franchisees to pursue growth."
Franchising at Oxi Fresh
As Kris Antolak stated, Oxi Fresh works hard to provide a wide range of programs, tools, and support systems for its franchisees, making it as efficient and straightforward as possible for Oxi Fresh franchisees to vigorously pursue growth.
While franchisees lead their local businesses, the Home Office team handles numerous responsibilities on behalf of their franchisees. That includes a wide array of marketing programs that help franchisees market their services effectively within their protected territories; these include SEO programs, content marketing, advertising, and much more. The Home Office team also provides multiple scheduling operations, including an Online Scheduler and a fully staffed Scheduling Center, as well as comprehensive training programs, online review platforms, and so much more.
If you're interested in learning more about franchising at Oxi Fresh, please visit the brand's franchising website, where you can find an abundance of information and can get in touch with the franchise development team. You can also learn more via the brand's profile on Entrepreneur magazine's webpage.
Eco-Friendly Carpet Cleanings with Oxi Fresh
Oxi Fresh's ability to grow as a franchising brand is rooted in the company's eco-friendly approach to carpet cleanings, which allows the team to offer consistently high-quality services to their customers. Using green cleaning products, energy-efficient technology, and low-moisture approaches, Oxi Fresh provides top-quality results with extraordinary levels of convenience for its customers. For instance, Oxi Fresh carpet cleanings are dry just about one hour after the cleaning is over, so there's no waiting around for hours on end for your carpets to dry.
Oxi Fresh also makes donations to an important non-profit, Water.org, anytime a customer books a cleaning through its Online Scheduler. All together, these benefits have enabled the brand to garner an impressive amount of glowing reviews from past customers.
So the next time you need a great carpet cleaning, visit Oxi Fresh's Online Scheduler or give the Scheduling Center a call directly at 1-877-OXIFRESH.