Oxygen-Powered Carpet Cleanings in Tucson!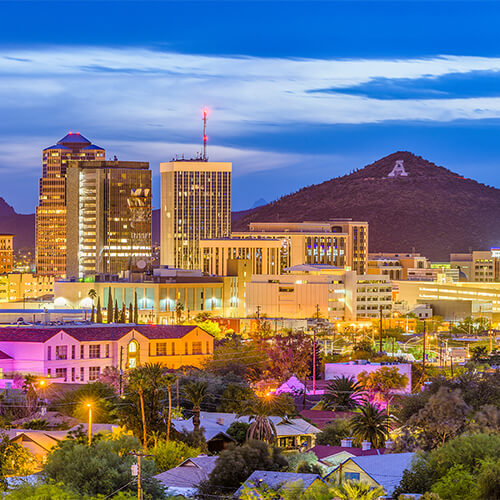 New location opens offering fast-drying, green carpet cleanings
The team at Oxi Fresh is always happy to announce new locations, because that means more and more people get to experience Oxi Fresh's revolutionary approach to carpet cleaning.
So, who are the lucky bunch today? Tucsonans! This August, Oxi Fresh franchisee Hunter O'Dowd and his parents, Paige and John, opened this new location offering Tucson carpet cleanings, tile and grout cleanings, upholstery cleanings, pet urine and odor treatments, and specialty stain removal services.
Hunter is leading this location and was inspired by the entrepreneurial path of his parents. Last year, they opened an Oxi Fresh franchise that began servicing Phoenix, Peoria, Surprise, Mesa, and Goodyear. Seeing that business in action helped propel him into opening his own carpet cleaning location.
"I have always been looking for ways to work for myself, and given my family's background with Oxi Fresh, this seemed like a great opportunity to become a small business owner," said Hunter, "Oxi Fresh's solid business model provides a clear path for growth, and with the guidance of my parents and Oxi Fresh corporate, I am confident that this new location will be a great success. I look forward to providing a high quality Tucson carpet cleaning service for years to come."
If you've never had a carpet cleaning with Oxi Fresh before, you might wonder what it looks like. What's the method that's earned us almost two hundred thousand reviews at 4.6 out of 5 stars?
An Oxi Fresh appointment starts with an application of our main cleaning solution – a combination of an oxygenated booster and a green encapsulator. These products will break down dirt and trap it in microscopic crystals. After that, we'll agitate the carpets with our cleaning machine. Its dual, counter-rotating brushes will get deep into the carpet pile and lift out trapped debris.
Following that, we'll vacuum and groom the carpets, ensuring you're left with great looking floors. Not only will they look good, though, but they'll also dry fast. Oxi Fresh's Tucson carpet cleaning method will dry in just about one hour. That's a heck of a lot better than the 12-24 hour dry times you get with some steam cleaners.
So, if you're looking for top-notch results that goes hand-in-hand with greater convenience, Hunter O'Dowd is the guy to turn to!
"We are proud to welcome Hunter to Oxi Fresh and look forward to him following in his parents' footsteps," stated Oxi Fresh CEO and founder Jonathan Barnett, "The O'Dowd's understand the important services we provide to our customers and how they can help make homes safer and cleaner. We look forward to seeing the positive impact they will have on the Tucson community."
To schedule a carpet cleaning, click here and use our Online Scheduler. Interested in opening your own carpet cleaning franchise? Click here.
To learn more about our most asked carpet questions, click here.