10 Tidying Tips! Easy Ways to Organize Your Home!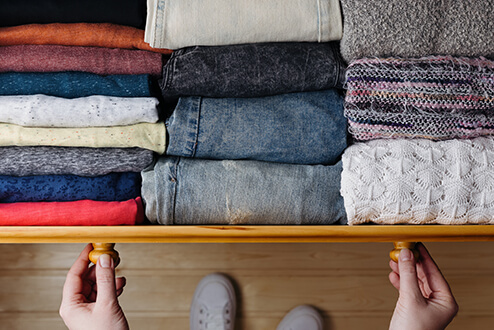 Reduce Clutter, Save Space, and Make Life Lovelier with these Handy Tips!
As you live life, stuff just seems to pile up. The cabinets are suddenly full, drawers cluttered, and you wonder what you're going to do with all the things you didn't know you had. And, of course, you can never find the thing you want when you need it.
So, here are 10 simple tips to help you organize your home:
Tip 1: On-the-Door Racks
Every door is a storage opportunity with these handy, floor-to-ceiling racks. Also called closet organizers, they're great for laundry rooms, linen closets, and pantries.
Tip 2: Above-the-Door Storage
Our next tip sticks to the door (or rather goes above it!) If your home has higher ceilings, the above your door frame can be a great place to install a shelf. Again, these work great in laundry rooms, linen closets, pantries, and mudrooms.
Tip 3: Cord-Keepers Keep Things Clean
These handy plastic straps easily attach to appliances, giving you an easy way to organize and keep cables from becoming a nuisance.
Tip 4: File Folding vs. Pile Folding
I was taught to fold my clothes and then put them in neat piles. Unfortunately, you can't easily see what's at the bottom of the pile. Try file folding! Just fold things upright and stack them in a row. It lets you see everything you have way easier.
Tip 5: Use Tissue Boxes for Plastic Bag Storage
We all reuse grocery store plastic bags, but they can take up a lot of space. So, once you finish up a tissue box, fill it with grocery bags! It's tidier, more compact, and convenient.
Tip 6:  Too Many Toys? One In, One Out
Now, this may be a tough sell. Whenever one of your kids gets a new toy, they have to give an old one away. This can be a challenge, but it's also a great opportunity to teach them about charity and the value of not hoarding.
Tip 7: Garage Ceiling Racks
This is a more ambitious project, but if you have a taller garage, it's something worth pursuing. Ceiling racks can be perfect storage for rarely used items like holiday decorations, camping equipment, etc.
Tip 8: Storing Shoes
A quickie but a goodie – when you store your shoes, don't have both of them pointing toe-forward or inward. Store them heel to toe (one shoe pointing toe-in and the other toe-out). By doing this, each pair of shoes will take up less space.
Tip 9: Pot and Pan Hooks
Pots and pans don't play nice with cabinet space. So instead, put up hooks on your cabinets or the wall and hang them there!
Tip 10: Pot Lid Storage
Now, you can't exactly hang your pots with the lids on, but these guys take up too much space in cabinets too. So, get a tension rod and use it to create a small division in one of your cabinets. Store the pot-lids standing up in this gap and – voilà! – you've saved a ton of space.
Hopefully these quick tips help you save space and make your life a little neater and relaxed. Thank you to Good Housekeeping for the great tips!