Greening Up the Great Outdoors: 4 Spring Cleaning Tips for Your Yard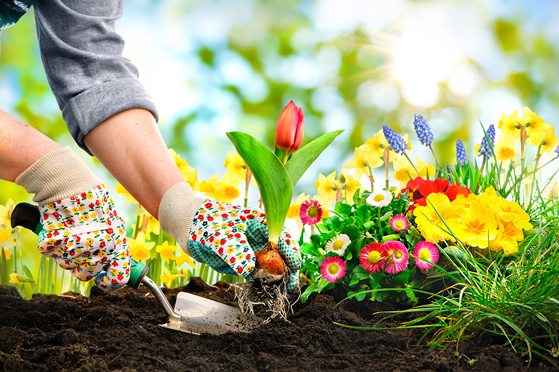 Spring cleaning is a chance to make life feel fresh again, but it's not just your home that can benefit. This spring, let's clean up our own little slice of the great outdoors with these spring cleaning tips for the yard!
Tip 1: Get Your Garden Going
Spring is the time to prepare your garden. There's an absolute load of great things you could do to help out your little farm, but we're just going to talk about three of them.
Cleaning Up: You may have a lot of debris in your beds and yard after winter, everything from the remains of last years plants to sticks to garbage that blew into the yard. Give your whole yard a thorough once-over and tidying up.
Super Soil: The quality of your soil significantly affects the quality of your garden. There are tons of guides out tending your soil, but one of the best comes from Motherearthliving.com. There's too much detail there to sum it up quickly, though, so check it out here.
Repair: The years can take their toll on garden beds, trellises, and fences. Take this time to repair and replace these before your plants grow too much and get in your way.
Tip 2: Say No to Bugs!
Mosquitos are just the worse, especially if you live in a wet climate. I can't stand the little buzzing monsters, so now's the time to track down and eliminate the standing water in your yard.
Water often collects in plant pots, pet dishes, buckets, tires, garden equipment, toys, and play equipment. Water can also collect in more unexpected places like in clogged gutters, around/in trash cans, and under spigots.
When you find these areas, do your best to either remove them, regularly drain/clean them, or provide them with covers to prevent water accumulation.
Tip 3: Fantastic Furniture
Patio furniture can get pretty grimy over the course of a year. Here are some quick tips on cleaning up three common kinds of patio furniture.
Plastic: Scrub the furniture with a sponge dampened in a washing soda mixture (1/2 cup of washing road to 1 gallon of water). Thoroughly rinse the furniture off when you're done. If there are stubborn stains, wet a rag with white vinegar, scrub the stain, and rinse it off.
Outdoor Cushions: If you can't remove a cushion cover to launder it, scrub it down with a sponge dampened with a borax/dish soap cleaning solution (1 tbsp. of borax, 1 tsp. of dishwashing soap, 1 quart of warm water).*
Once you're done, spray the cushions down and stand them on their ends to dry. Rotate them regularly and avoid having them in direct sunlight; this will help them dry evenly.
Remember to always test the cleaning solution you're using on an inconspicuous corner to make sure it won't cause color loss. Check your cushions to see if they have specific cleaning instructions; if they do, follow those instructions.
Wicker: Wicker furniture is quite pretty, but all those nooks and crannies make it a bit trickier to clean.
Start by vacuuming the piece; use the vacuum's brush attachment to break down stuck-on dirty. If the dirt won't budge, try using a stiffer brush to break it down. Take care to not damage the wicker when cleaning.
Follow this up by cleaning the piece with soapy water and a sponge (1/4 cup dishwashing dish soap with 2 cups of water). Thoroughly rinse the wicker off once you're done.
Tip 4: Clean Up, Clean Up, Everybody Do Your Share!
If you're looking to take your Spring Cleaning beyond your yard, try organizing a community litter pickup. These are a fantastic way to make your neighborhood looking nice and clean.
A litter pickup event can be as big or small as you want – just you and some neighbors or you can try to organize a school event around it – but before you start planning, check with your city. They very well may have litter pickup days already planned that you can become a part of.
Thanks to all the following sources for the great information: Barbara Pleasant of Mother Earth News, Sue Sanderson of Thompson & Morgan, Better Homes and Gardens, DIY Network, Mrs. Clean at House Cleaning Central, and Connecticut Energy Marketers Association.
Looking for natural remedies for Spring Allergies  or our famous Spring salad recipe?