10 Christmas Decorating Hacks!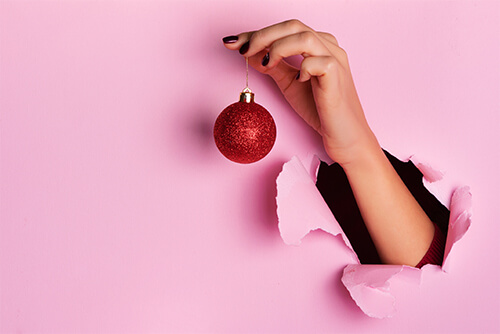 Fun, Simple Décor Ideas to Make the Holidays Jolly!
We all want our homes to achieve that perfect holiday look that would make Santa swoon.
Whether your perfect holiday house has a rustic flair with burlap garlands or a modern feel with simple lines and complimentary colors, these 10 Christmas decorating hacks will help!
They're lovely, fun, and easy to implement. Enjoy!
1. Frosty the (Refrigerator) Snowman
If you have a white refrigerator, you can dress it up like a snowman! You can go simple with black and orange construction paper for the coal and carrot or you can go all the way with a top hat, pipe, scarf, etc.
If the kids want to get in on the decorating magic, have each of them come up with a snowman costume for the refrigerator and change it out as the holidays approach.
2. Christmas Cabinet Ribbons
Turn your kitchen cabinets into presents with this décor tip. Tape a cloth ribbon on the top inside of the cabinet door, drape it down the front of the door, and tape the remaining ribbon onto the inside of the door. Hot glue or tape a bow into the middle of the ribbon and – voila!
Now you have Christmas cabinets! Maybe hide some candies in there as a little gift to your family (and yourself)!
3. Cookie & Gingerbread House Decorating Trick
If you like decorating cookies with lots of different colors of icing, this trick is for you. Put your icing into a traditional ketchup/mustard condiment bottle (like you'd see at a diner!)
You can get these relatively cheap, they're less messy than a piping bag, and the fine tip will make it easier to do intricate decorations.
4. Hot Glue Snowflake Window Clings
Here's a fun Christmas decorating hack – hot glue can make some of the best snow flake window clings. Just print out a snow flake template, lay parchment paper over it, and "trace" the design with hot glue. Let it dry, peel it of the parchment paper, and use a drop of hot glue to affix them to your window.
If you have older kids, this can be a fun craft for them too!
5. Jingle Bell Gift Camouflage!
If you have present-shakers in your home, this can be a fun way to disguise the contents. When you pack up the present, first put it in a box and throw some jingle-bells in there!
When they shake it, they'll hear a merry jingling and (hopefully) not what's actually inside.
6. Upping Your Christmas Tree Game: Two Different Bulb Sizes
Decorating your tree with two different sizes of lights is easy to do and looks fantastic. It really will take your tree to a whole new level.
7. Fancy Christmas Lights
The green plastic wires of these lights is ubiquitous, but doesn't always look the best. So why not dress them up in some gold or silver spray paint? It makes them look 100x better!
Here's a guide with more detailed instructions: landeeseelandeedo.com/gold-christmas-decor-mantel-details.
8. Frozen Whipped Cream Hot Chocolate Toppers
Line a baking sheet with tin foil, fill it with a layer of whipped cream, and freeze it. Then, when it's time for some hot chocolate with the family, use a cookie cutter to cut out fun whipped cream shapes!
9. Transforming Old Containers into Cookie Boxes
If you like baking trays and trays of tasty holiday treats, you know that finding enough containers to pack them up and give them out is a challenge. You end up piling them on a paper plate and cling filming them – and that's not very festive.
Instead, take an old plastic wrap or tin foil box and wrap that in wrapping paper. Line the inside with parchment paper and you've got a perfect cookie container. It looks lovely and has your awesome cookies inside!
10. Powdered Sugar Snowflake Christmas Cookies
This is really neat looking! Cut out a snowflake and lay it over a cookie. Sprinkle powdered sugar over it (use a sieve or strainer) and then remove the paper snowflake. You're left with beautifully decorated snowflake cookies!
Thanks to The Krazy Coupon Lady, Peggy Wang at BuzzFeed, Country Living, Kelly Dixon of Smart School House, and Landee of Landelu for the great Christmas decorating hacks!