The AllBusiness AllStars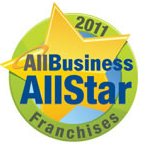 In the business world, you can calculate statistics about your company, its profits, losses, growth, etc., and then compare that to industry averages. That  can give you some important numbers, but it's not quiet the same as getting an "official" ranking. Maybe it's our competitive nature, but we like it when third parties take the time to analyze the industry and calculate where we stand amongst all other franchises. It's a great way to judge our progress, seeing how far we've come and how far we've left to go. That's why we here at Oxi FreshCarpet Cleaning were very pleased when AllBusiness.com ranked us #176 out of their top three hundred franchises!
AllBusiness.com is a site devoted to helping entrepreneurs and small businesses succeed by providing them with business journals, blogs, and and free business forms. And since franchises are one of the most popular things for entrepreneurs to invest in, once a year the site ranks the top franchising systems in America. It judges them based on "unit growth rate, financial strength, system size, years in business, years franchising, availability of financing, and Web (brand) visibility." Using this information, it figures out the overall quality of each franchising system and, we're proud to say, that we ranked in three of their major categories this year.
Our carpet cleaning company was not only ranked #176 overall, but our growth also received special notice, ranking #48 overall! Add to that a web visibility rank of #195 and it's clear to see why were so pleased. Of course, none of this would be possible without great franchisees, expert carpet cleaners, and a green carpet cleaning system that is second to none.  That's what has driven our success and has earned us numerous awards and made us one of the top franchising systems in the world.
If you'd like to read more about AllBusiness.com and Oxi Fresh, click here.