New Location Launch: Fast Drying Carpet Cleaning Comes to Mobile!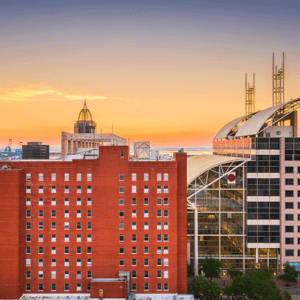 Oxi Fresh Carpet Cleaning Comes to Mobile Alabama
Oxi Fresh Carpet Cleaning recently launched a new carpet cleaning franchise in Mobile, Alabama, which was then featured on Patch.com. This is the first Oxi Fresh location bringing the company's famous fast-drying carpet cleanings to this great city.
Heading up this location, which will service Mobile, Bayou La Batre, Theodore, and Dauphin Isle, are Amy and Patrick Senna. This hardworking, local couple are committed to providing customers with friendly service backed by professional results.
When asked why they wanted to open a Mobile carpet cleaning location, Patrick had this to say: "After working behind a desk for years, I was itching for the opportunity to get out and move. Learning about Oxi Fresh's model, I became more and more impressed by the unique cleaning method. Additionally, as a dog parent to three dogs, I've gotten quite good at cleaning carpets! It was a perfect fit and it's a perfect service for the Mobile community. Oxi Fresh is the greenest and healthiest carpet cleaning in the area."
You can trust Patrick to work hard for you; his ten years working as a captain for crew and utility vessels in Louisiana oil fields and four years in HR taught him that quality results come from elbow grease, professional, and friendly service.
For Amy, this isn't her first foray into the world of entrepreneurship. She's already the proud owner of a home cleaning service and jewelry business. Amy can't wait to use all her business-know-how to make sure everyone hears about Oxi Fresh. "We are excited to bring together our backgrounds and work for a common goal," said Amy, "Together, we'll make Oxi Fresh a household name in Mobile."
A Modern Cleaning System
And there are plenty of reasons for people to talk about Oxi Fresh. The company's Mobile carpet cleaning service is quite different than most traditional cleaners out there. Where they offer hot-water extraction services that soak carpets in wasteful amounts of water and chemicals, Oxi Fresh utilizes a revolutionary low-moisture system. It provides excellent results without wasting water, and it dries in just about one hour.
The company, which currently has around 375 locations in the United States and Canada, is proud that its fast-drying system also helps save water. They've conserved an estimated 35,000,000 gallons of water since 2006.
Beyond saving water, the company is a proud supporter of Water.org and their mission to fight the global water crisis. Oxi Fresh donates to the nonprofit with every cleaning scheduled online.
"We are excited to join Oxi Fresh in supporting Water.org," said Amy Senna, "Oxi Fresh gives to this amazing organization and their mission to fight the global water crisis whenever customers book a job online."
To contact Oxi Fresh of Mobile, visit. You can read more about Amy and Patrick's Mobile carpet cleaning location.