Oxi Fresh Recognized as a Leading Mobile Franchise Opportunity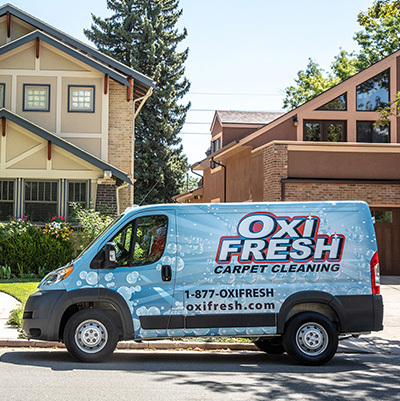 Small Business Trends
Recognizes Carpet Cleaning Franchise as a Leading Mobile Franchise Opportunity
Here at Oxi Fresh, we're always pleased to be recognized for our great work, whether it's for the exceptional carpet cleaning service we offer our customers or the quality carpet cleaning franchise opportunities we provide entrepreneurs. That's why we're thrilled to announce that we were recently recognized by Small Business Trends as one of the best mobile franchise opportunities on the market today. 
Mobile franchises, as the name implies, are mobile; the team uses vehicles to bring products or services directly to customers. These offerings are increasingly popular with consumers and, in turn, with new franchisees and entrepreneurs, as they offer unparalleled convenience. 
Oxi Fresh Offers Unmatched Ease and Convenience
Of course, as with most carpet cleaning operations, Oxi Fresh's business must be mobile in order to meet customers at their homes and clean their carpets—so this sort of convenience is baked into our business model. But it's important for you to know that Oxi Fresh goes above and beyond to provide both industry-leading cleaning quality and unparalleled convenience. 
For instance, where an old-school steam cleaner might saturate your carpets with dozens of gallons of water and leave them wet for as long as twenty-four hours, an Oxi Fresh carpet cleaning is dry about one hour after we're done. So when you choose Oxi Fresh, you can sit back, relax, and trust that we'll deliver an excellent carpet cleaning at an affordable price with unmatched ease and convenience. That's a combination other carpet cleaners just can't beat. 
Beyond that, this mobile carpet cleaning franchise business model has helped our company better serve more and more customers across North America. Here's our CEO, Jonathan Barnett, elaborating on some of these benefits:
"Oxi Fresh operates under a franchise model, which has helped us rapidly scale our business so we can serve as many customers as possible. We really offer quite a few advantages to our customers compared to the competition, but it's the ease and convenience of working with Oxi Fresh—from our easy-to-use scheduling options to our fast dry times—that really distinguish the Oxi Fresh brand."
The Oxi Fresh Advantage
Here at Oxi Fresh, we're always pleased to see our franchising opportunities recognized for their excellence. We pride ourselves on having built a truly modern carpet cleaning franchise opportunity that empowers our carpet cleaning franchisees. Through excellent systems and support, our franchisees can focus on business development rather than just on day-to-day operations. In particular, we offer franchisees critical benefits such as:
Access to our Scheduling Center, staffed with knowledgeable professionals, as well as our Online Scheduler—both of which make scheduling cleanings a breeze

A powerful business management software platform with numerous key features, such as an online university, automatic email marketing, and more

The daily support of our Home Office team, offering vital resources to strengthen critical areas of your business, such as cleaning system support, content marketing, SEO, and much more
These features of our mobile carpet cleaning franchise system, combined with the unmatched quality of our carpet cleanings and the exceptional customer service we provide every day, have made us one of the industry's leading carpet cleaners. That's enabled us to earn an abundance of thoughtful reviews from thousands of happy customers, in addition to some noteworthy awards and recognitions. 
Book Your Carpet Cleaning Today!
So the next time you need your carpets cleaned, trust Oxi Fresh for the job. You can reach our team on the phone at 1-877-OXIFRESH, or you can book your own appointment online at www.oxifresh.com. 
If you're interested, you can also learn more about our mobile franchising opportunities at www.oxifreshfranchise.com. 
Either way, we can't wait to hear from you.