Oxi Fresh Carpet Cleaning Ranks in FBR Hall of Fame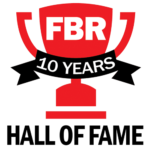 Carpet Cleaning Franchise Earns Coveted Place in Hall of Fame
Every year, the Franchise Business Review puts together the Franchisee Satisfaction Awards. Our carpet cleaning franchise not only made the list this year, but has also done so ten times since our first ranking! That earned us a spot in the FBR Hall of Fame, alongside great companies like Snap-on Tools, FASTSIGNS, and others.
But what is the Franchisee Satisfaction Awards? It's a franchising industry ranking that is quite a bit different than other such lists. Whereas they focus on the franchisor's numbers and growth, the FBR focuses on the franchisee. Our ranking is based on the growth and satisfaction of our carpet cleaning franchisees.
Consequently, this is a much more important ranking than any other in the industry. While of course we value things like the Franchise 500, this ranking really looks at the franchisees. Nearly 30,000 franchisees filled out surveys that asked important questions about the health and standing of their franchise company.
The questions cover a wide variety of fields. The franchisees answer questions about their business growth, how they feel their franchise is progressing, how effective the training solutions are, how technology is implemented in the system, how the corporate team is handling the future of the brand, and so on.
So we're proud we ranked for the tenth time. Jonathan Barnett, our company's president, had this to say about our carpet cleaning franchise ranking: "We are incredibly honored to join the exclusive Franchise Business Review Hall of Fame. For years, Franchise Business Review has stood as the ultimate test for a franchise concept, having rankings determined by franchisee satisfaction. Our induction into the prestigious Hall of Fame is not only a testament of the brand's strength, but also evidence of our diverse, engaged and extremely hardworking franchisee community."
One of the reasons Oxi Fresh has ranked well in this survey is thanks to our commitment to providing franchisees with a truly modern business platform. We have a centralized Scheduling Center to handle calls, a custom-built CRM to manage scheduling and customer information, automated marketing tools, and much more.
"These tools and support systems," said Kris Antolak, the company's vice president, "all exist to empower the franchisee and elevate their businesses. We eliminate busy work and the daily grind so that they focus on business development. I think that commitment and its results really shows in our spot in the Franchise Business Review Hall of Fame."
Read more about our carpet cleaning franchises ranking in the FBR Hall of Fame here. You can see all of the Hall of Famers here! To schedule a carpet cleaning, go to www.oxifresh.com and use the Online Scheduler. You'll get great deals, be able to book quickly and easily, and your carpets will dry in just about one hour! That's right, there are no long, annoying dry times with Oxi Fresh. Just carpets that look great and dry fast! To learn more about opening your own franchise, click here.