Jelly and Jam: Making Clothes Clean Again!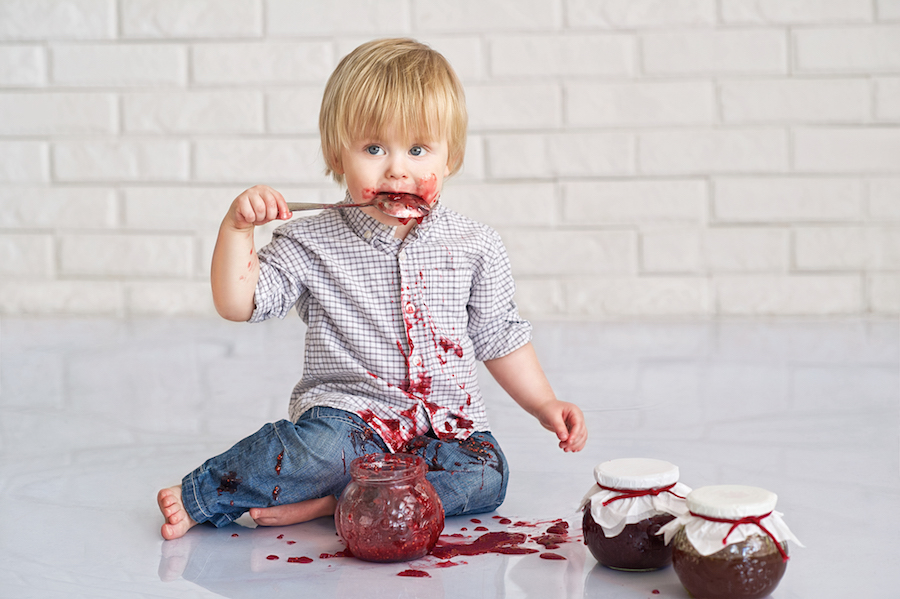 PB&J and toast with jelly are staples when you have kids. They're quick, simple, and (most) kids like them – which is a miracle with how picky some kiddos can be.
Of course, if jelly and jam are frequently on the menu, that means they're frequently stains on shirts, skirts, and pants. But that big purple smear doesn't need to spook you – just try this cleaning tip!
What You'll Need
White Vinegar
Laundry Detergent (Liquid)
Rubbing Alcohol
Chlorine Bleach OR Oxygen Bleach
Sponge
Spoon/Butter Knife
Step 1
First, use a spoon or knife to remove as much of the jelly as possible. Make sure you scrape towards the center of the spot so you don't spread it around.
Step 2
Run cold water through the back of the stain; hopefully this will force some of the material out.
Step 3
In a large bowl, mix the white vinegar (1 tbsp.), the laundry detergent (1/2 tsp.), and warm water (1 quart). Put the clothing item in the bowl, work the stain with your fingers a little, and then let everything soak for 15 minutes.**
Step 4
Take the clothing item and out and rinse it water.
Step 5
If the stain is still there, dampen a corner of sponge with rubbing alcohol and blot the spot. Don't overdue this – only treat the stained area. Thoroughly rinse the spot out after this.**
Step 6
Now throw the item into the laundry and use either an oxygen bleach, a chlorine bleach, or no bleach (depending on what's safe for the clothes).
There you go! Hopefully you were able to save that shirt! Thanks to Goodhousekeeping.com and Stain-Removal-101.com for the great tips!
** Please note that whenever you're using cleaning solutions on clothing, you should test the solutions on an inconspicuous spot first to make sure they won't cause any damage. For fabrics made of wool, silk, or other delicate fibers, it's best to send the item to a dry cleaner.