5 Tips for your Perfect Summer BBQ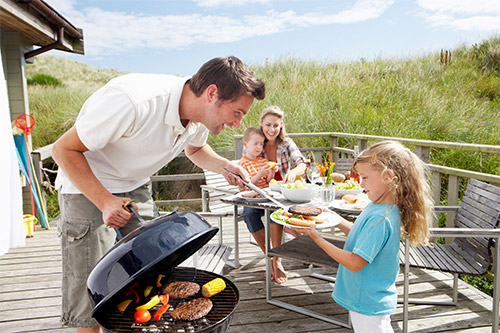 Kids running around, lemonade by the gallon, the frisbee getting tossed about – summer BBQ's are great, aren't they? Everyone at Oxi Fresh loves them and we've put together some of our favorite tips to help make your next summer shindig better than ever!
Switching Up the Grill
Burgers and hot dogs have been the barbecue standard for decades and, well, they can get a bit boring. This summer, why not try switching things up? Put together some kebabs with steak, onion, and bell peppers; grill some corn on the cob; try making a grilled pizza; or use elk or buffalo meat for your burgers. Changes like this will keep parties fresh and make guests happy.
Check out these great recipes that will help keep your grill fresh!
Lime and Watermelon (So Good!)
This might sound like an odd combination, but man oh man – this is great. The next time you chop up watermelon for your BBQ, sprinkle the chunks with fresh lime juice (about 1/2 a lime for 1/2 a watermelon).
This adds a nice, tangy touch to the melon without overpowering its mellow sweetness. It's easy to prepare, refreshing, and people love it. Trust me on this one, when I first tried it I ate way, way too much watermelon.
Play Fresh: New Outdoor Games
Always do a beanbag toss? Rely on the old frisbee for most of your yard games? Switch things up or add a new game to your repertoire this year like Ladder Ball, Kan Jam, Kubb, Washers. All of these games are fun, easy to set-up, and quick to learn.
Need some inspiration? Check out these great ideas!
Bugs Shouldn't Drink
Has a particularly thirsty fly or gnat ever landed right in your drink? Annoying isn't it? Try this: take a paper baking cup (like you'd use for cupcakes), punch a straw through  it, and place it over the glass. Now you have a great cup cover that will keep your drink safe from bugs.
Need some summer drink ideas? Click here!
Sweet, Sweet Construction: Desert Bars!
No BBQ or summer party is complete without sweets, but a plain plate of brownies can feel lackluster. This year, put together a desert bar by picking a main treat, a series of toppings and tasty add-ons, and then letting your guests build their own desert.
Here's an example: put out a plate of brownies, some vanilla ice cream, a variety of sauces like fudge/caramel/raspberry, chocolate chips, mini-marshmallows, and whatever else strikes your fancy. After that, just point your guests in the right direction and let them go to work – they'll love it!
Thanks to Simply Recipes, Listotic.com, Erin Dower with FamilyEducation.com, Deboarah Ory of Delish.com, Miki Duisterhof of Redbookmag.com, Martha Stewart, and  Polly of ThrivingHomeBlog.com.
Looking for tips on dealing with Summertime stains?