Pumpkin Spice Cookies!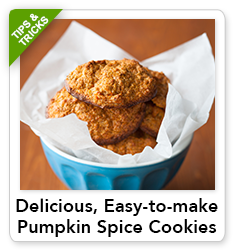 Ginger, allspice, nutmeg, cloves, and cinnamon; did you know that's really all there is to pumpkin spice? Yep, those five spices combined make the taste that dominates the nation's cafés every fall.
But you don't have to go out for a latte to get your pumpkin spice fix. You can get it at home with these cookies!
What You Need
1 Cup of Walnuts (Chopped)
1 Cup of Chocolate Chips
1/2 Teaspoon of Pumpkin Pie Spice
Canned Pumpkin (15 oz. Can)
Make sure this is Solid Pack Pumpkin and NOT Pie Filling
Spice Cake Mix (18.25 oz. Package)
Let's Get Cooking
– Step 1 –
Set your oven to 350ºC.
– Step 2 –
Mix your walnuts, chocolate chips, pumpkin pie spice, and canned pumpkin in a large bowl.
– Step 3 –
Grease a large cookie sheet and scoop out your cookies onto it. You want to use nice, rounded spoonfuls of dough.
– Step 4 –
Bake for 15 minutes. Afterwards, let the cookies cool for five minutes on the sheet and then move them to a wire rack to finish cooling.
There you go! Now you've got about 24-30 cookies to share with your friends . . . or to keep for yourself (depends on how much you like pumpkin spice).
Thanks to Carruth and javajunki at AllRecipes.com for the great information!